Take all the brands nailing content marketing, and Red Bull will still top the list. It is an undisputed leader. Why? Well, because the brand has transcended from being a single-product energy drink brand into a world-renowned publisher of media, TV, film, and print. The brand is conquering almost every publishing medium. From having an updated YouTube channel to high-end documentary films, RedBull is not just doing but acing it all.
Let us look at one of the best marketing spectacles of Red Bull and know why its termed as the best in its industry.
Introduction
In 1982, Dietrich Mateschitz landed in Thailand after a long flight from Germany with jet lag. At that time, he was a manufacturer and used to work with Blendax – a German company that made personal hygiene products. He had been jet-lagged before and never found a satisfactory cure for it until he drank a local Thai drink called Krating Daeng.
Krating Daeng was a carbonated energy drink launched by Chaleo Yoovidhya in 1976 that was hugely popular amongst local truck drivers and laborers. Mateschitz didn't want to limit this experience to himself alone. Thus in 1984, Mateshitz cofounded Red Bull with Yoovidhya and transformed it into an international brand. However, the product was first launched on 1st April 1987.
Mateschitz had the confidence that the drink would be loved and accepted by a variety of people, he didn't want to limit its target audience to the blue-collar ones alone. Given this, Red Bull repositioned the drink as an upscale and trendy drink by introducing it at Austrian ski resorts.
And to no surprise, Mateschitz was right, he knew he was the first one to enter the energy drink market and could leverage this opportunity. During the 1990s, the brand expanded into the United Kingdom, Germany, Hungary, and Slovenia. In 2008, Ford magazine listed Mateschitz and Chaleo as the 250th richest people in the world.
But how did the brand become an icon for the extreme sports industry? Red Bull found their niche very early on. In 1988, Red Bull sponsored their first sporting event, "The Red Bull Dolomitenmann," which was one of the most challenging relays on the planet. Red Bull realized that the extreme sporting industry depended a lot on the adrenaline, excitement, and energy of all people involved. They discovered that their product was a perfect fit for this type of audience.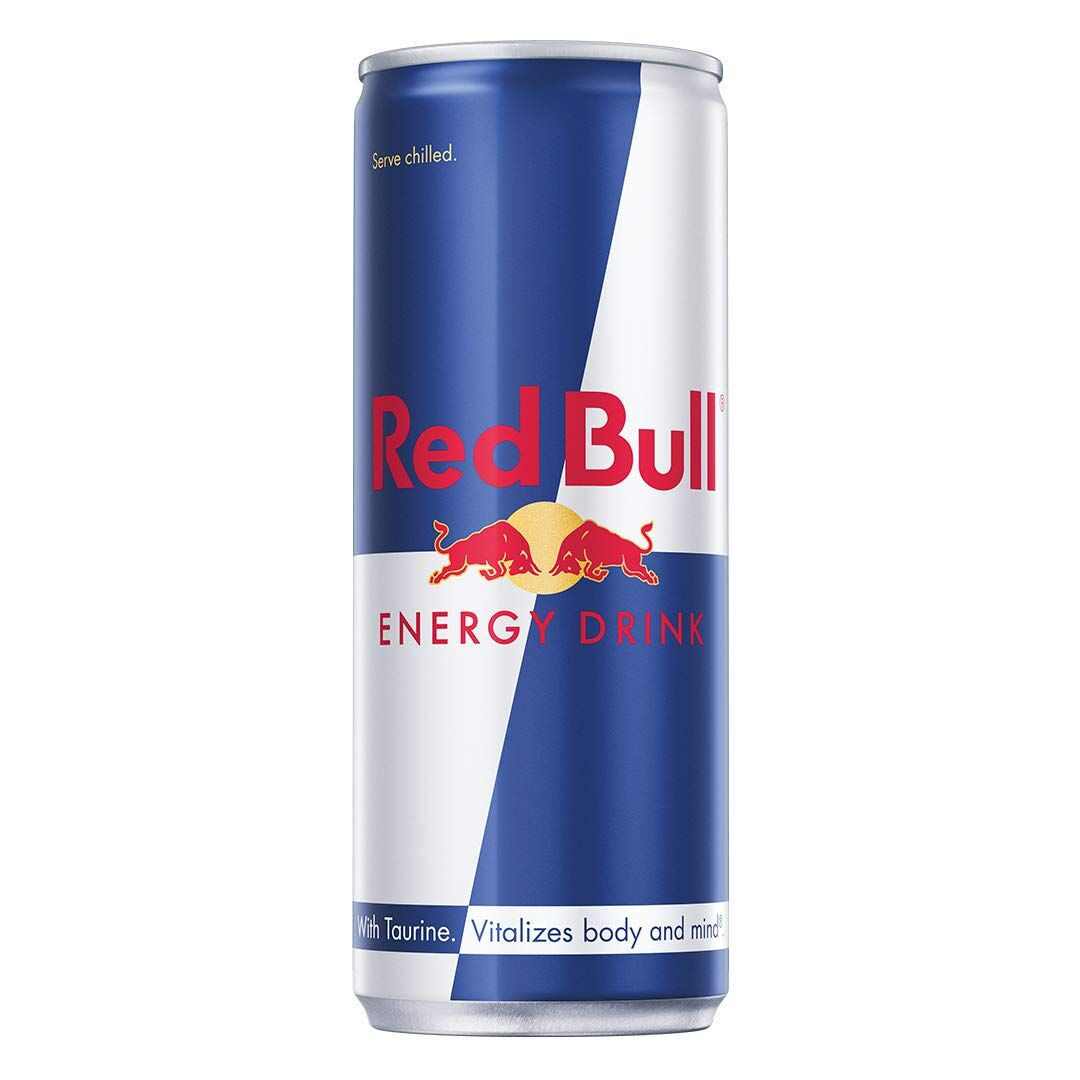 And with this realization, they began to market it like anything. They took strides towards becoming a name in the extreme sporting industry. Red Bull put out their logo everywhere it could and promoted its energy drink to sporting athletes, who would then promote the brand.
Not long after, Red Bull had placed itself well in the market. They already had a 100% market share in Europe at that time and were amongst the most desirable brands. Soon Red Bull was not just seen as a drinks brand but a thrilling epitome of youth and sporting culture.
Selling almost 7.9 billion cans yearly worldwide, Red Bull has the highest market share of any energy drink in the world. Red Bull today owns multiple sports teams across the world. They are known to sponsor sporting events like Formula 1 and Snowboarding Olympics and for their work with various famous athletes. With two F1 teams, Red Bull Cliff Diving and racing game on PlayStation 3, we can say that they have hit a bull's eye.
And we haven't even come to one of the major parts yet! People follow Red Bull's content like a subscription to a streaming service. Their 10.7 million subscribers on Youtube, around 16 million Instagram followers, and 2 million followers on Twitter itself show that Redbull has aced the art of content.
The Challenge
When Redbull started as a brand, it had no competitors. However, when the brand reached its maturity stage, many new multinational companies entered the global energy drink market. Brands like Monster energy, Sting, Gatorade, Coca-Cola, and Mountain dew were also taking strides with tastier and diversified flavors.
The problem was that Red Bull had already put itself distinctively in the market. What could it possibly do to give tough competition to these rising brands? They already had a distinct product, but what made the brand win was how they placed and presented it in the market. Red Bull realized soon in the game that it had to leverage marketing in the best possible way to stay on top. And they did exactly that.
Red Bull entered the domain of risky marketing. What could be a risky marketing move for most of the brands? Maybe not testing the copy on that new ad or leveraging a new media channel? But for Red Bull, the idea of risk was that one of its sponsored athlete's bodily fluids would turn into gas as he plummets 24 miles from space at 8000+ miles per hour and that too in front of the entire world, live!
Let us look at how this brand not just redefined content marketing for the world but also brought extreme sports spectacle to new heights (literally)!
Red Bull's Stratos Project
About the Project
On October 14, 2012, skydiver and parachuter Felix Baumgartner and the Red Bull Stratos rose into the atmosphere in a huge helium balloon above the deserts of New Mexico. This was done under the watchful eyes of millions of online viewers, as broadcasting the event live was one of the major goals of this event.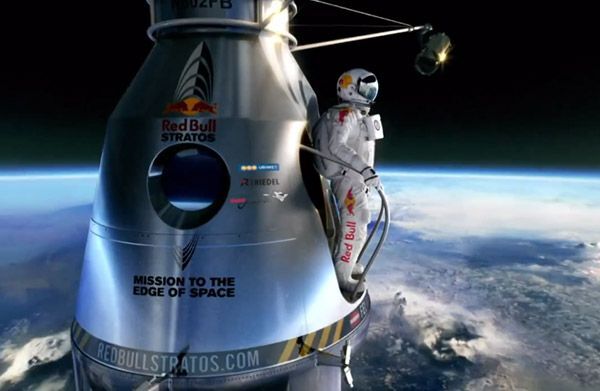 As directed by Joe Kittinger, a former Air Force pilot who had previously held the record for highest parachute jump dating back to 1960, when the correct altitude was met, Baumgartner into the ledge of the capsule.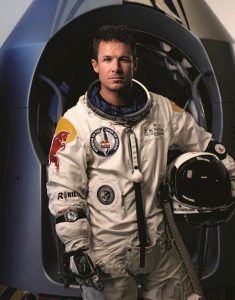 With a small hop, he began to descend back to Earth and reached a record-breaking speed of 843.6 mph. This made him the first human to reach supersonic speeds in a free fall. With this fall, Baumgartner achieved three world records, including the fastest speed ever in free fall, the highest balloon flight, and the highest free fall.
Felix landed safely back on Earth after 4 minutes and 20 seconds. Thus cementing his place in the history of lighter-than-air flight.
The Purpose
The primary purpose of the Red Bull Stratos Project was to project the brand like never before. It was to further cement its positioning as an extreme sports energy drink by reaching the heights no competing brand could beat – literally.
Baumgartner and the team showcased well that the right equipment and proper training can help accelerate a human being through the sound barrier. Following was the purpose of this extravagant mission.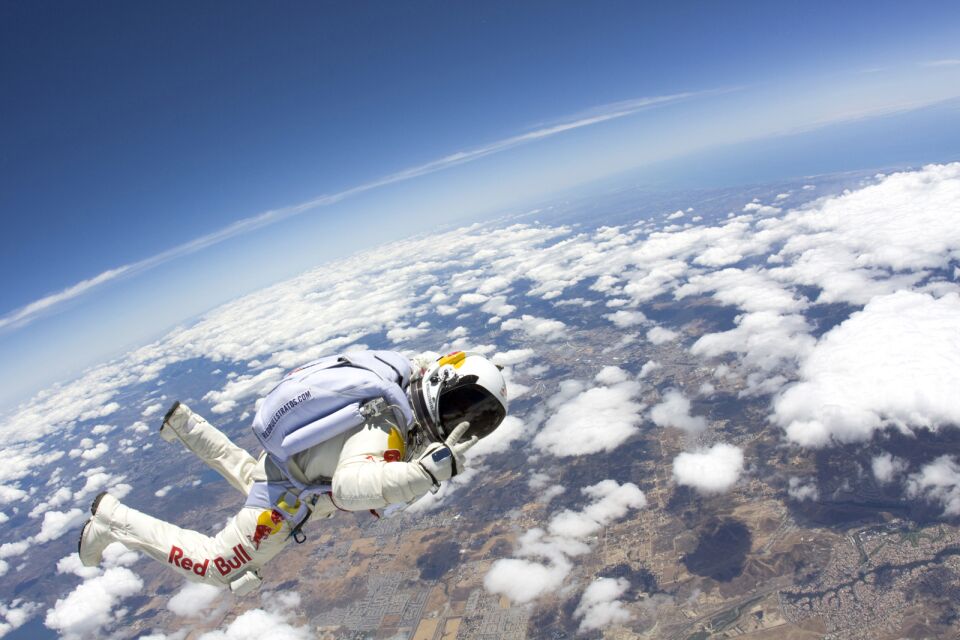 To break a record set by former U.S. Air Force pilot Joe Kittinger, who made a 19-mile jump in 1960.

To record reams of data from the leap that the aerospace, commercial flight, and medical industries could use.

And for Red Bull to set a new standard in extreme sports cred.
The Results
As the world witnessed the event live, Red Bull Stratos proved that it could transcend human limits. It proved that a human could break the speed of sound in freefall and that was just one of the many records. The pioneer flight test program set three official World Records in addition to numerous benchmarks in other categories.
Most watched youtube live in history.

PR publicity worth a billion dollar

Redefined the idea of content marketing

While the estimated cost of the Marketing stunt was about $30 million, Felix's jump led to breaking over

$500 million in sales

for the company.
Content Marketing Lessons from Red Bull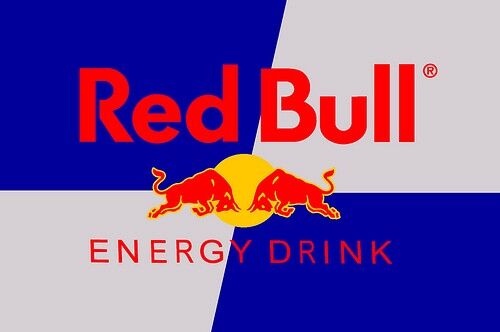 They do not deviate from the core branding message while creating content.

Redbull promotes a lifestyle, not a product.

They have always associated with the right partners

Red Bull does not hesitate to take risks

They know their audience intimately and always put them first

Red Bull has always put their audience at the heart of the business and has churned out content that they know its customers will enjoy

For Red Bull, it's about creating moments and experiences they can share with their audience

They make sure their content is accessible to everyone and anyone.
Conclusion
With efforts like these to engage their audience, we can say that Red Bull is the undisputed leader in content marketing. They have nailed marketing that, too, through insane projects. They have set the tone for any brand to follow and replicate.
From this case study, we suggest small businesses start small and work their way up. Maybe start with customer testimonial videos or behind the scene footage of your business. The goal is just to get your content out there.
Want to leverage content marketing for the success of your brand as well? Talk to our experts today.