Introduction
Cisco Systems Inc, commonly known as Cisco, is a worldwide technology company that creates, produces, and markets networking hardware, software, telecommunications equipment, and other high-tech goods and services.
Cisco was founded in the year 1984. After experiencing ups and downs in its early years, it emerged as one of the most valuable businesses in the world, with a market valuation of $180 billion in 2020. It is one of the largest tech companies, ranking 74 on the Fortune 100.
Cisco and Cybersecurity
Cisco is highly renowned for its enterprise networking and cybersecurity capabilities. Enterprise system security is heavily dependent on the end users, and human error accounts for nearly 90% of security breaches. Hence cybersecurity ignorance among the general public hindered Cisco's reputation.
Human errors accounting for cybersecurity breaches varied from downloading malware-corrupted attachments to using weak passwords. While the end-users were struggling with cybersecurity practices, the rise of new cybercriminal activities further aggravated the situation for Cisco.
Cisco came up with programs to educate organization employees on cybersecurity best practices, but they failed when they tried to extend the program to the general public. Cisco's corporate approach of using seminars, technical articles, and blogs couldn't garner the general public's attention.
The challenge in connecting with its audience forced Cisco to find a new and engaging way to communicate with users. After much deliberation and research, they pursued a creative and rather unusual corporate marketing solution. And created one of the most impactful contents on cybersecurity.
A Novel Attempt
Visuals have a better chance of drawing the reader's attention than texts. Visually appealing content and striking illustrations are more engaging and suitable for educating people on seemingly dense technical subjects.
Hence, In 2016, Cisco produced a graphic novel series called SuperSmart Security Graphic Novel, which aimed at creating cybersecurity awareness among the general population.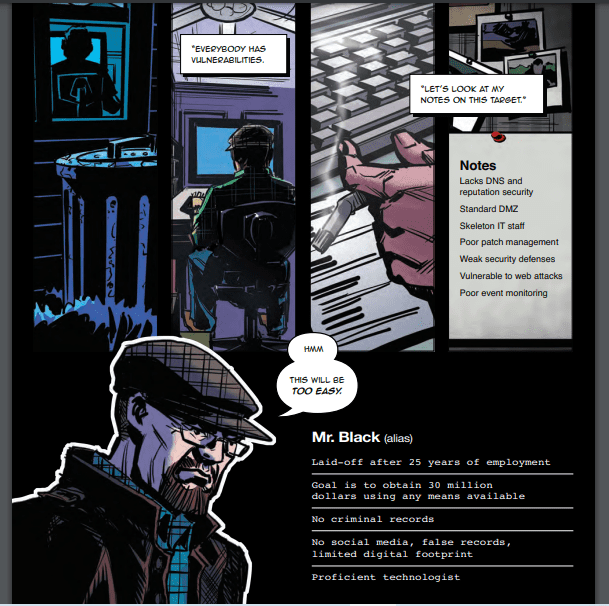 They created an audience-first approach that would start from the basic idea of analyzing audience needs and created content that would answer a specific cybersecurity problem.
Cisco realized that questioning consumers about their requirements yields better results than making assumptions.

So they used polls and questionnaires to understand their customer base and created multiple sections on cybersecurity problems.

Based on the inputs received from their target audience, they created a graphic novel that spoke to the customer directly regarding the cybersecurity hazards and best practices.

They distributed the content for free on their social media platforms to ensure maximum reach.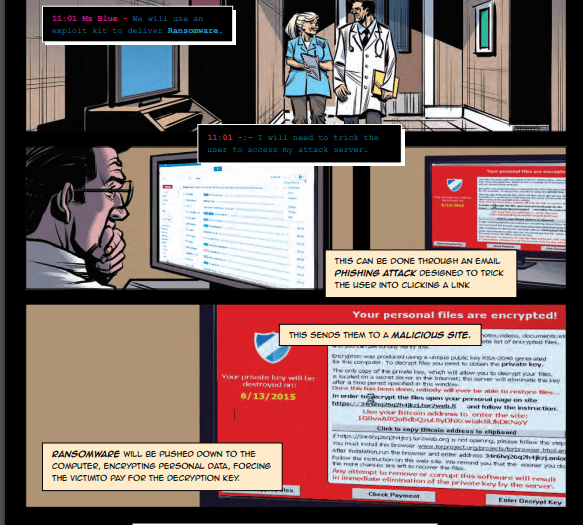 Results
"Cisco did away with the idea of a dry but informative campaign and, instead, produced a graphic novel – complete with a superhero. Honestly, it really doesn't get much better than that!" – Jack Zmudzinski, Senior Associate at Future Processing
Several factors contributed to the success of Cisco's content marketing strategy focused on cybersecurity, especially its unconventional approach. Crafting a comic around cybersecurity breaches was a phenomenal out-of-the-box idea for branding content.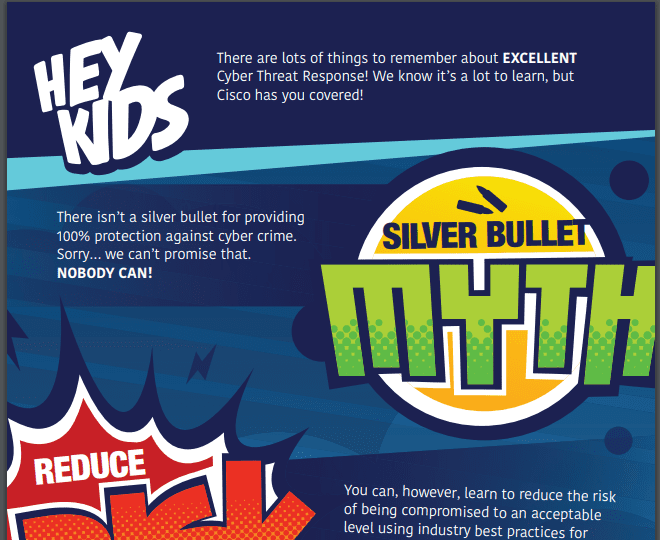 Even for people who prefer long-form content, the content strategy of an eight-page comic full of graphics was unique, engaging, and unexpected. As stories connect with a broader audience, Cisco combined them with appealing illustrations, which helped them to work as glue sticks.
This campaign is a testament to how creative content can be used wisely for education and awareness. A typical blog post would've generated little interest compared to a graphic novel in promoting Cisco's cybersecurity services. The pictorial booklet nevertheless rose to the top of the company's content offerings in terms of performance.
Moral of the Story
Cisco combined creativity with content marketing to bring out the best possible approach for the sake of its business. Some of the things we can learn from Cisco are
Innovation and Risks – Taking a leap of faith can prove fruitful in innovatively branding your content. People don't remember boring content. What shows sell too! Therefore creating user-centric content that caters to corporate audiences and your consumers is the key.
Play With Your Content – Even in B2B companies like Cisco, creating content that is entertaining to read can be successful. Avoid limiting certain material forms to specific audiences.
Be Unique – Standing out of the mainstream also increases website traffic and the brand's visibility. Therefore, strategically employed content marketing helps deliver the organic traffic that your brand needs.
Talk to our experts today if you are looking for an out-of-the-box content strategy to put your business on the map.